Today I've originally planned to travel to Sundbyberg and northwards, in other words, to go northwest. But my plans changed as I've notice that the stretch between Rydbo and Österskär were still closed. I know for a fact that that stretch had been closed for some time now and the replacement buses are running between that stretch.
So why not go there and check out the situation and find out what's really going, instead of reading the vague description in which SL Trafikavvikelser gives?
Consequently I left home around 13:07 in order to catch the 13:10 bus 40 from Lektorsstigen. Then I got off at Universitetet Norra and there changed to the Red Line to Danderyds Sjukhus.
Here comes the pictures: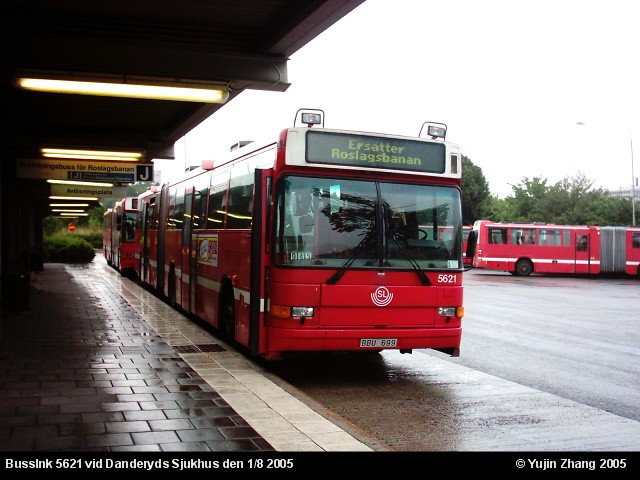 After arriving at Danderyds Sjukhus, I walked to the Ersättningsbuss station, which is located in the north end of the bus terminal (Station J). And here is the bus standing waiting for departure to Mörby Station.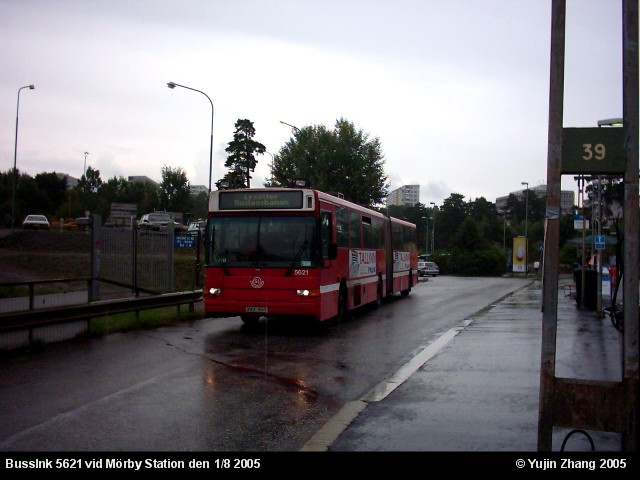 The bus arrived at Mörby Station 2 minutes later, with more than enough time to take a few pictures before getting on the Roslagsbanan. But unfortunately, it started to rain, and there weren't any other buses than the one you are looking at right now, so I took a picture of the Roslagsbanan I took and got on it afterwards.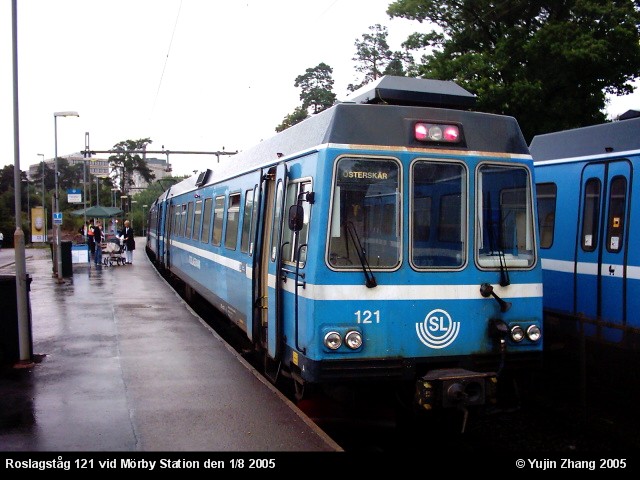 This was the Roslagsbanan I took to Rydbo. Notice that the destination band still says Österskär. At that moment, I was a bit confused, since on SL's website, they still say that Roslagsbanan is suspended between Rydbo and Österskär; but sometimes it takes some time for SL to update its website. So I decided to get on no matter the case.
The driver made an announcement around 13:45 explaining to us what the situation is. And now it was clear that there still is Ersättningsbuss between Rydbo and Österskär.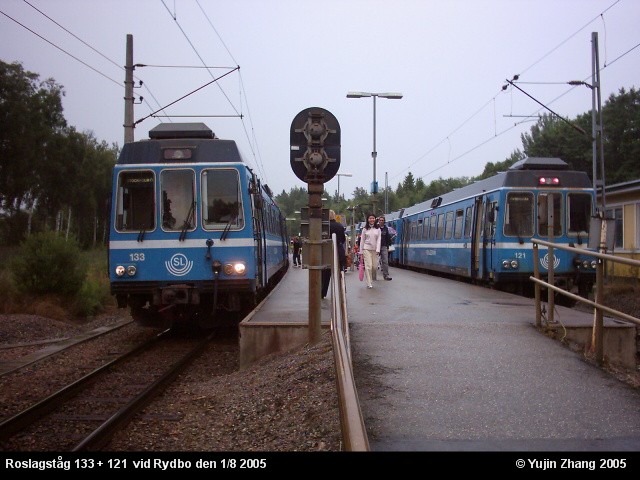 And after a 20 something minutes ride I arrived at Rydbo. Unfortunately, the weather only worsened, the rain was just pouring down about 5 minutes before I took this picture.
To the left, one Roslagsbanan ready to depart to Mörby.
To the right, the Roslagsbanan I took from Mörby
If you are worrying that there might be too many trains on the rail on the Österskär branch, then don't; since the train meets here, at Rydbo anyways during most of the day, and the next train heading for Stockholm will the one that is currently at Rydbo heading for Österskär during the none-rush hour. The only difference is that the driver will have a full 30 minutes rest over here.
Sadly, I didn't really get the bus model I was really hoping for; but I have to satisfy myself with this one since the next bus would in 30 minutes.
At Åkersberga Station, we stopped at the station heading for Österskär Station, but people wanting to go to Rydbo all went to our bus and started asking if they can take it to Österskär Station with us and come back since they claim that there hasn't been a bus to Rydbo in more than one hour!
Now, I'm not surprised over this, since SL is really capable of doing things like this; this reminds me of the time when I had to wait for 120 minutes at Gåshaga Station for the Ersättningsbuss to Ropsten since the Lidingöbanan was down some time ago.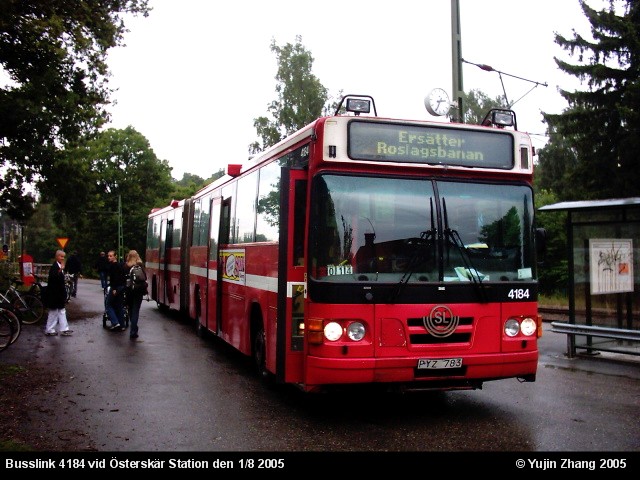 Here is the bus again at Österskär Station. There weren't really that many people left on the bus after Åkersberga Station.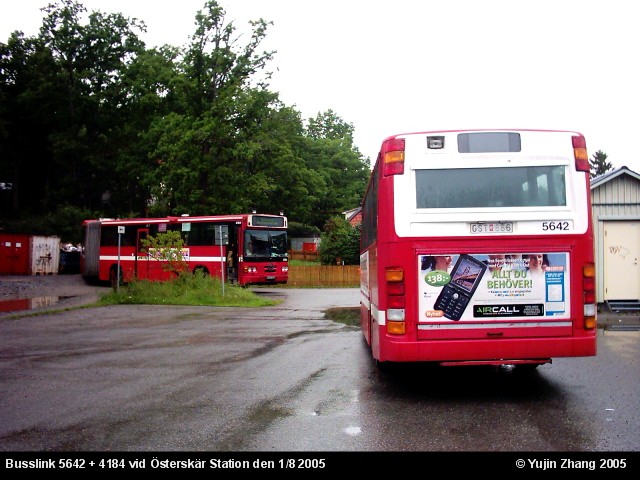 Then I walked a bit more eastwards, and found myself another bus there waiting for departure. The driver of the bus I took walked over to the other bus and started chatting with that driver...
During the mean time, I walked over the 20 meter or so abandoned railway section and took some pictures of the railways. You can find them here.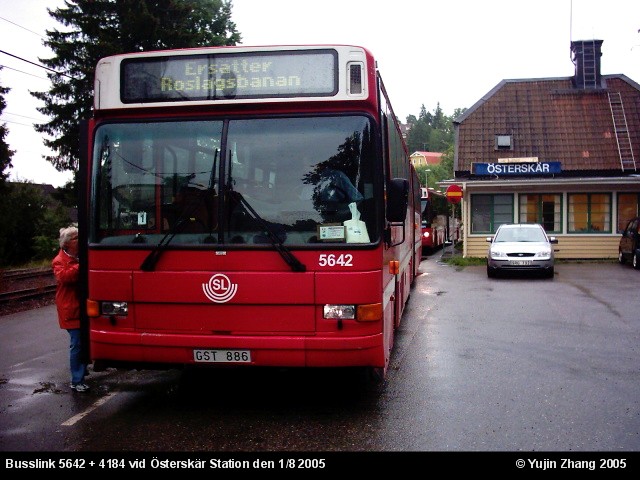 Time for departure!!!
For some reason, the bus I took to Österskärs Station left at the same time as this bus I took to Rydbo. Now that's typical SL, since the next bus will be in 60 minutes.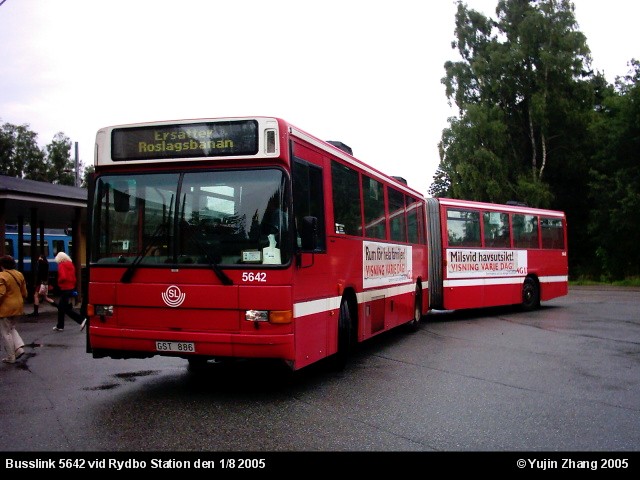 And back to Rydbo Station. You can see the Roslagsbanan behind the bus, which I will take back to Mörby.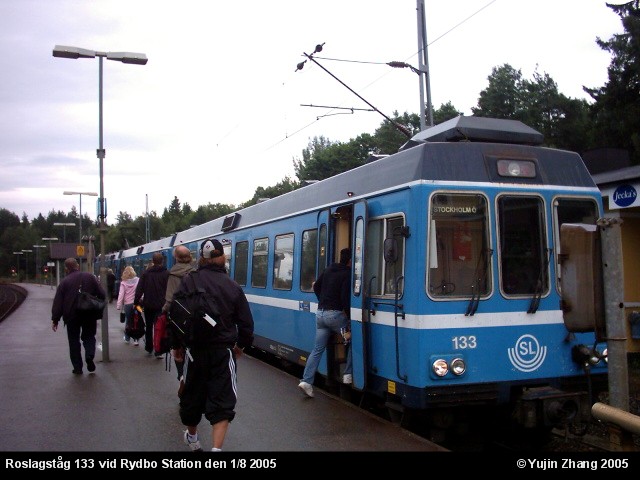 Well, Well, Well, look who's here. This is the train you saw on the previous Roslagsbanan picture heading for Mörby. Apparently it's back, at Rydbo.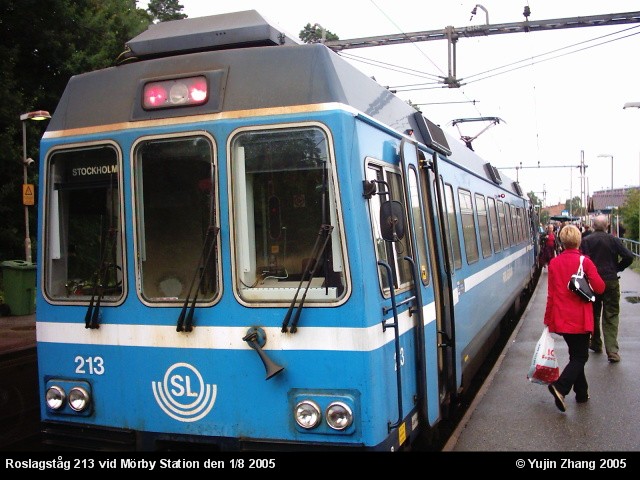 Here is the end of that Roslagsbanan I took.
Then I took bus 177 to Kolonnvägen and there changed to bus 70 (only 1 minute changing time!!!). And took bus 70 to Odenplan and stayed there for 15 minutes to take some bus pictures which you can find in the Photo Album (they are sorted after respective owner).
This page was created on 20050801 and was last updated on Sunday, December 23, 2007 18:36