Route: Slussen - V. Orminge
This is a new test version of the station plate project. In this one, I sorted them as per bus route instead of the alphabet, so the first one is bus 471. Click on the number in order to see a picture of that station/stop. Usually 1) is eastbound, i.e. to V. Orminge and 2) is westbound, i.e. to Slussen, however, it can vary when at places where the the bus only makes the stop in one direction.
Unfortunately, two stations were left out in this, and they are, Slussen Avstigning and Nämdöstigen Avstigning; they should be fixed shortly.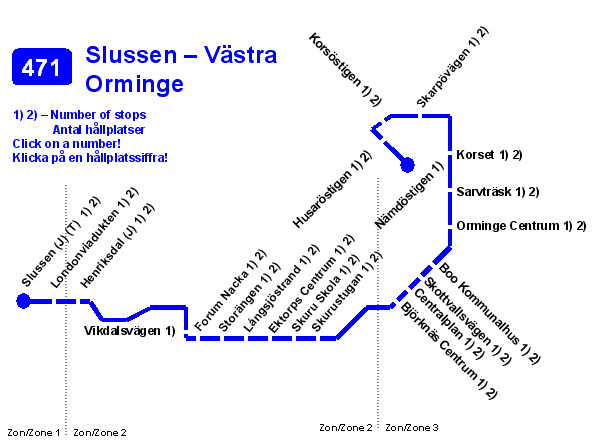 This page was created on 20060304 and was last updated on Wednesday, May 03, 2006 18:52
Picture of the week:

Latest Update:
>> Bus pictures from Hälsingland!
Latest Update:
Station Plate Pictures for N:a Lidingö bus routes!